Woven Cosmetic Bag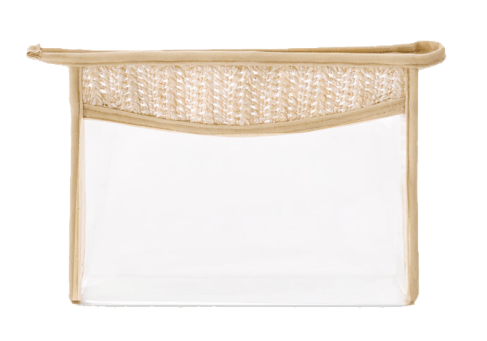 A lovely woven bag
Perfect for storing your beauty essentials
This pretty Woven Cosmetic Bag is big enough (7 in.*5.4 in.*2 in.) to comfortably hold all of your makeup and skincare essentials and offers an easy-to-clean construction.
Cosmetic bag characteristics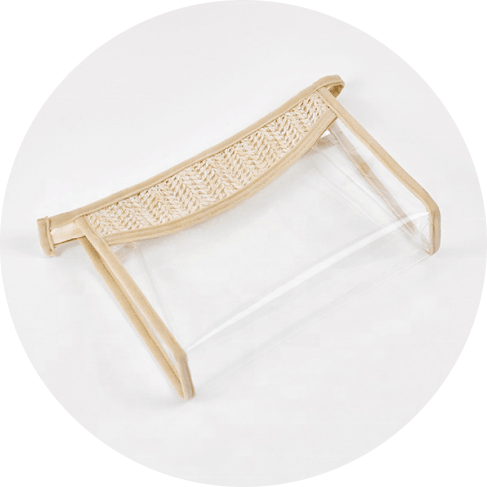 High quality
Crafted with care, this toiletry bag features a sleek construction thanks to transparent PVC material and superior weave fabric.
Easy to take care of
Don't worry about spillage and stains anymore! The plastic material the bag is made of is super easy to clean, and the ziplock keeps all goodies secure.
A perfect travel accessory
If you're looking for something that's exceptionally convenient, look no further than this gorgeous Woven Cosmetic Bag! It's an excellent carrier for your favorite skincare and makeup products. Bring it along on a weekend getaway, and have all your essentials well packed and organized in one place.
Nice product for the price - stylish and durable, light weight, easily see through. It holds a lot without taking up a lot of space. Love it and highly recommend it if you need to organize small things in your purse. Worth buying.

Awesome! I was looking for something small, but not too small and this bag is exactly what I need. It fits perfectly small items I need every day and keeps my purse organized too without taking up a lot of space.

A perfect solution for organizing small items such as pills, lip balm, wipes. etc, in my big backpack and it no longer looks like a hot mess! Light weight, quality material and sturdy zipper - should last a long time. This purchase is definitely worth it!

This makeup bag is small and convenient. It looks exactly as the picture shows. I love the material because it's easy to clean and to dry. Also it allows you to grab items easily. I recommend this one!

Exactly as shown. I need a small bag for travel to keep my girl stuff and very happy with my shopping. If u need small inexpensive transparent makeup bag, I recommend it for u.

The bag is well-made and the material is sturdy, no problem with closing or opening. Happy to add these to my collection. Great purchase, recommend.

Great for travelling - I like that this cosmetic bag allows the TSA agent to see what is in the bag without opening it. Will buy one more for meds. Recommend!

Seems durable and well made. The bag has a light smell of plastic and it bothers me at first, but after washing everything is OK. However, I'd recommend it. Thanks for the product!