Wheat Shaped Pearl Necklace
18k gold pearl necklace
A golden opportunity to brighten up your look
A gold necklace is much more than a simple piece of decoration. The right necklace will highlight your look and brighten your attire. Enrich your style with this graceful wheat shaped pearl necklace.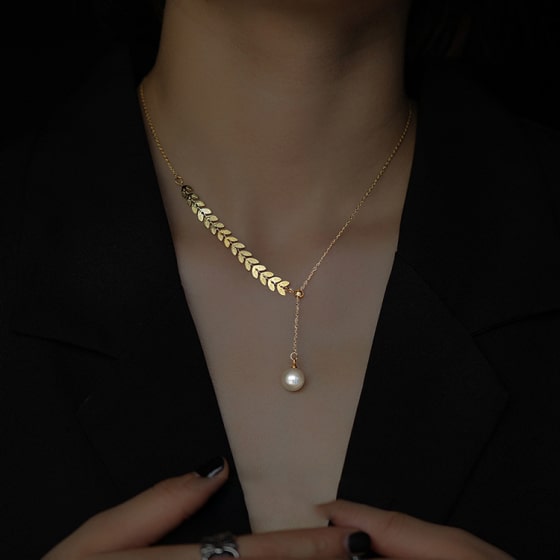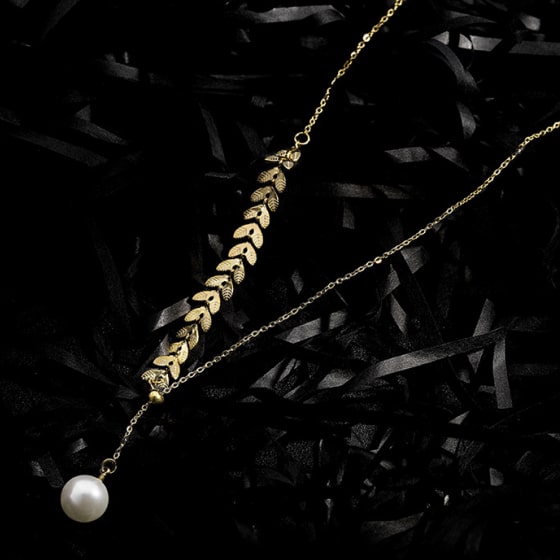 Gold pendant specifications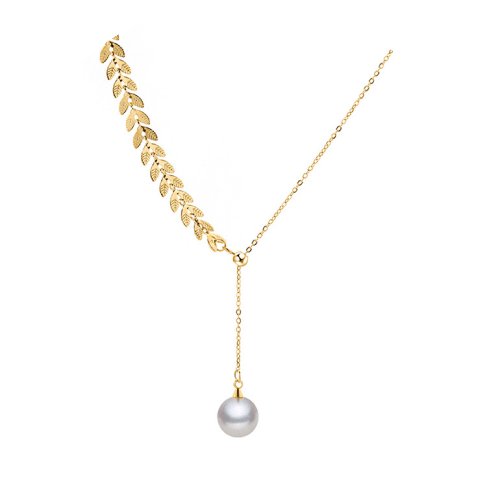 Care tips for jewelry
Keep the jewelry away from chemicals, high temperature, bath, water, sweating, cosmetics, moisture crash to avoid any damage, please treat it carefully. Store your necklace separately in a sealed box or sealed bag to avoid oxidation.
Necklace details
This pearl necklace is made out of stainless steel. The weight: 0.2 oz. The length of the necklace: 15 in. + 2 in.
It's perfect for any occasion
Whether it's an anniversary, a wedding, a party or any other significant date, this golden necklace is ideal for any woman to wear on any occasion. It will be the perfect addition that will highlight practically any look! By wearing this fantastic necklace, you can experience an array of new positive emotions and raise your confidence level.
Looks really well done, seems sturdy

Very satisfied. Exceptional gift for special friend.

Beautiful piece for our June daughter's birthday gift. Very pretty. Very well packaged.

Very beautiful piece of jewelry. It looks much more expensive than it actually was. I bought it for my granddaughter for a birthday present and I know she will be delighted. I will definitely be looking at jewelry from the Store for Christmas.

Bought it as an anniversary gift. My wife loved the necklace. Very beautiful pearl and love amazing on her.

Absolutely beautiful I could not be happier with the necklace. I highly recommend it

I wanted a single pearl pendant for both casual and formal wear. This pendant satisfies both needs. Well made and simply lovely.

My wife loves the necklace she has worn it all the time since I gave it to her. Looks quite nice. Very happy with the purchase.

I bought this as a gift for someone, so I can't say much about how it feels or hold up, but it's appearance is quite beautiful. It's simple and elegant, and is true to the picture. A nice piece.

The pearl and setting are beautiful. The price was right and arrived promptly. The packaging was very suitable for gift giving purposes. Positively recommend this vendor.

This necklace is really beautiful. It is high quality and well made. I purchased the matching earrings available here along with this necklace and they look great together.

I love my pearl necklace. I can not wear it all the time, because of the restrictions and care to this product. I live in Texas, it is hot most of the year and the required care for this necklace makes it hazardous to wear outside.

Love it! Makes a great gift for the pearl or pearl lover in your life. Lots of jewelry with pearls can look a bit cheesy or just "not quite right," but this necklace is tastefully done and with quality elements.

I purchased this for a friend's birthday and she loved it. Her 6 year old daughter loved it even more and asked if she could have it, lol. It's well made and is the perfect size. Description is very accurate

I bought this necklace for my wife for our anniversary, and it is absolutely gorgeous! She loves it and has received several compliments just today. It is beautifully made and looks great. Very happy with this purchase.

This was a gift for my niece for her high school graduation. She loved it! Very beautiful and larger than I thought it would be. That's a good thing. Perfect gift! Now I'll have to find something equally nice for her college graduation- just thinking ahead- this is going to be hard to beat. The design is beautiful and the pearl itself is very lovely. Very pleased with this purchase!