Trendy Bracelet Set
Designed for ultra-modern looks
Make a bold move
Made with layered looks in mind, this Trendy Set of four bracelets has mixed styles and textures for a glamorous effect.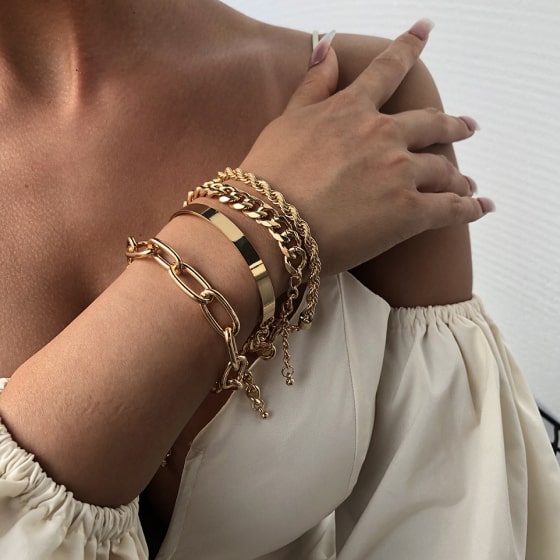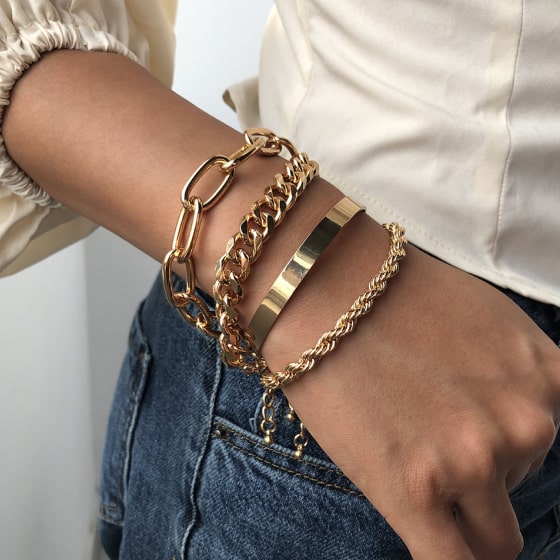 Every piece is unique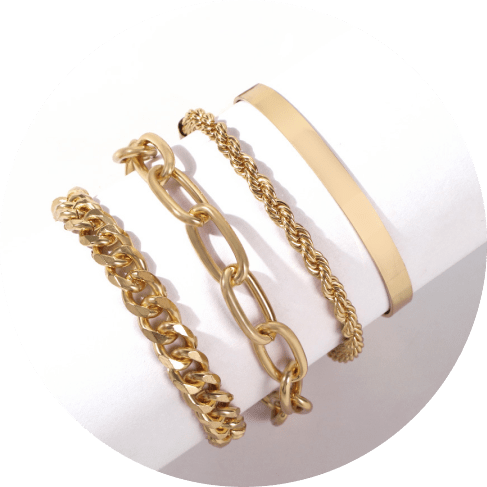 Bracelet details
Color: gold. Length: 3.1 in.-5.9 in. + 2.4 in. Weight of the set: 1.4 oz. Material: alloy.
Easy to take care of
Keep the bracelet set in a cool, dry place. If needed, dry with a slightly wet soft cloth.
Gorgeous with everything
This stunning Trendy Bracelet Set conveys the very essence of sophistication and functional elegance. Designed for beautiful ladies wanting to create a stylish look, this set is perfectly paired and looks pretty with any outfit, casual or classic.
Love how light they are and great for larger wrists. The set is polished and has nice extenders. The gold isn't too brassy either which is usually what I'm picky about. Although the extender is long, it can just be looped again in the clap to shorten it. Recommended!

I love these bracelets! I've worn them together a few times now and the color has not worn off or changed. They are great quality! Definitely recommend.

My daughter and I love these bracelets. They are very nice and shine like a diamond. My teenager wears these bracelets every day.

Beautiful. They look so real. They are not sturdy so don't be rough with them. If you want something cheap and cute this is it.

It's hard to buy for teenagers but I apparently made a really good choice because she loves them

I liked the looks and sturdiness of these bracelets. I like to wear them all at same time on one arm

If you want to feel/look fancy on a budget these are a must have!

Great look for the price. Exactly what I was looking for.

The sizes are perfect, a nice bracelet collection, elegant and stylish!!

Cute 😍 looks just like the pic

They're super long chains off the end but I know how to chop that off. Not bad quality at all for the price

Very pretty and like the picture! However, they're very long.