Stylish Beaded Anklet
Stylish ladies' ankle bracelet
Make the impression last and catch everyone's eye with this amazingly stylish beaded ankle bracelet. A perfect addition to your beach or night-out look.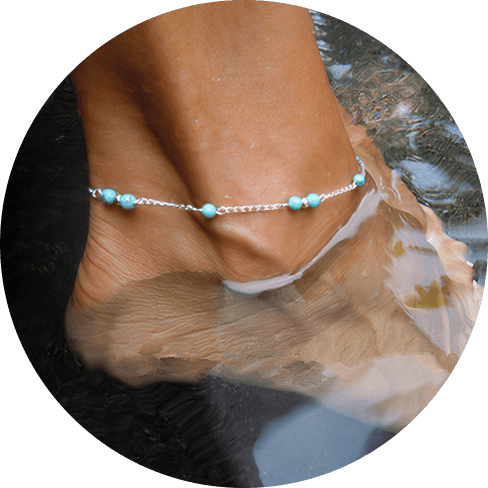 Ankle bracelet specification
Add some flare to your fashionable look
Main jewelry material
The ankle bracelet is made out of quality materials including zinc alloy.
Jewelry details
The size of the bracelet: 8.3/1.9 in. The weight: 0.1 oz. Diamond shape: round brilliant cut.
A great gift
Whether you want to surprise yourself, your friends, or even your significant other, it will be a perfect surprise.
Occasion to wear
Great to wear for anniversaries, engagements, parties, weddings, or even to give someone as a present.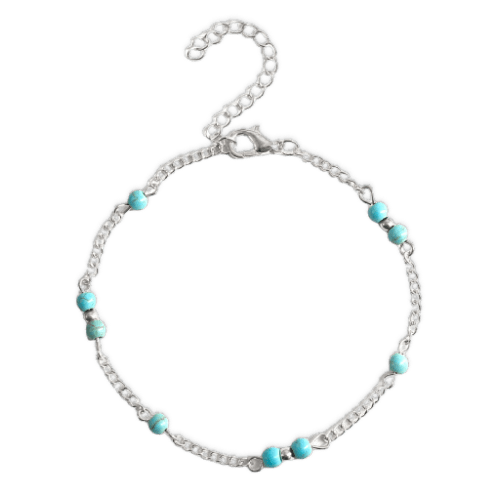 A perfect complement to your look
Touch up your look effortlessly with an exquisite ankle bracelet. It will be the perfect subtle detail that will complement your look and allow you to showcase your personality. Although it's subtle, you will also feel an uplifted sense of confidence and elevated mood.
It is beautiful, I love the color of stones and sparkling chain. I bought this for my 18 year old granddaughter's birthday gift. She will love it. It is gorgeous. I love it.

Love this bracelet! I've been wearing it almost 24/7 for the last few weeks and so far it is still in great condition! Lightweight, minimal, durable. Definitely recommend and would purchase again.

Beautiful. Doesn't fade. I have two. For my mother and me. Lasts even after showers. Sparkling chain and stones. I had my first one for about two years and never took it off before I purchased my newest two.

I wore this anklet for a week straight while on vacation in Jamaica and it never lost its sparkle! I was in and out of the pool and the ocean and it's still in great shape. I was worried it would start to change color, or worse, change my skin colors, but it hasn't been an issue. Totally recommend this to anyone who likes sparkly stone jewelry!

I started wearing a silver and stone ring and I needed a silver bracelet to balance all the other silver I wear. This bracelet was perfect. It's thin and light and matches my ring perfectly. I just got this so I don't know if it will tarnish, but at the price I would just buy another one if it does. 10/10 recommend.

This anklet is beautiful! I bought the rose two tone last year and it held up well. I never took it off! I received a ton of compliments on it. I bought the black two tone this time and it is sharp! They are comfortable and smooth. They are very sparkly and have not tarnished. I will probably buy more to layer up!

Was so surprised when I opened this up at the shine and sparkle. Incredible price. I put this on right away and haven't taken it off since. Still good to this day. I recommend this anklet to everyone. Great Value!

Honestly, I'm so surprised that it has not turned black on me yet. I wear it everyday and it has touched water several times. Super cute and does not fit tight at all! There's a lot of room. I've had it for a few months now and wanted to wait until I give a review to see how long the anklet lasts. I've purchased other ones in which they turned black on me after a few uses. This one remains shiny and looking brand new even after months! Very great quality!

A bit longer but it is okay, I still love it and recommend it.