Silver Beach Anklet
Moon silver anklets for women
The ideal accessory that will wonderfully complement your look
Do you feel like your look is a bit out of fashion and needs something refreshing? Brighten up your summer fashion style with this beautiful silver beach ankle bracelet.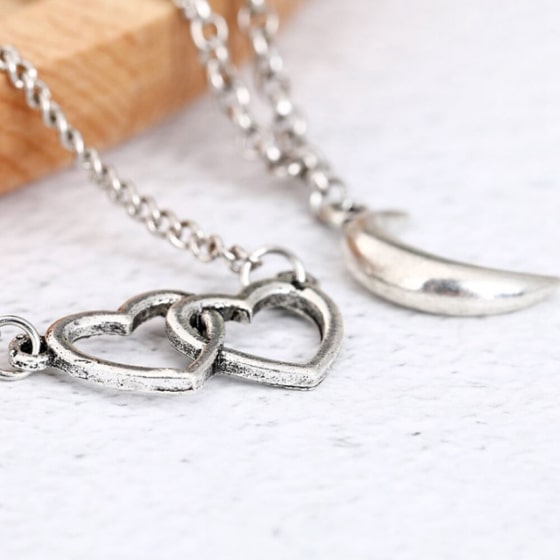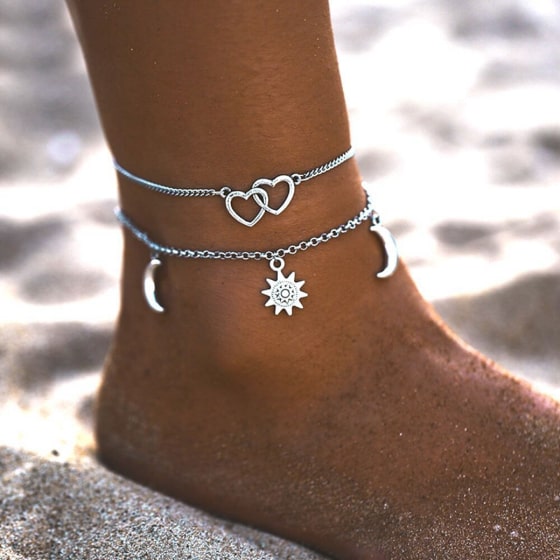 Anklet details and specifications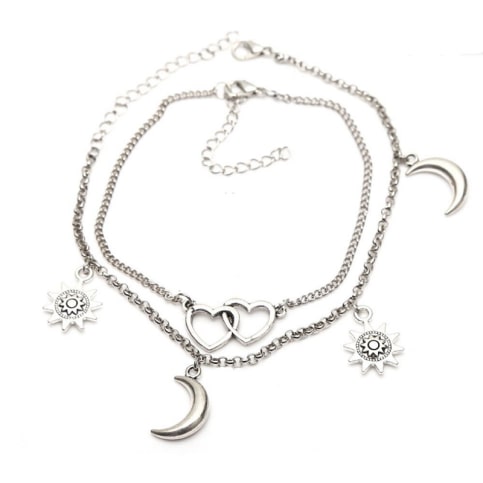 Care tips for jewelry
Keep the jewelry away from chemicals, high temperature, bath, water, sweating, cosmetics, moisture crash to avoid any damage, please treat it carefully. Store your anklet separately in a sealed box or sealed bag to avoid oxidation.
Silver beach chain details
The ankle bracelet is made out of zinc alloy. The weight: 0.35 oz. The length of the chain: 9.45/7.9 in.+ 1.9 in.
The perfect gift
This silver beach ankle bracelet will be the ideal gift for any lady. It will serve as a subtle touch that will highlight practically any look, and especially your summer outfits. By simply putting on this ankle bracelet, you will experience high confidence and a rush of positive emotions. Your walks on the beach will be ones to remember!
Very pretty, love that it is adjustable!

Love my anklet, I never take it off. I shower and bathe with it in. Hasn't turned colors.

Makes a great day collar/stealth collar to remind her who she is! :-)

I really loved this ankle bracelet, it has really lasted me since 2018 which was worth the price and the color has stayed the same. Till this day I still use it!

I bought this for myself. I almost always wear an anklet and when my last one broke I couldn't find another I liked until I found this one. It's very pretty and seems to be pretty durable!

This is a nice anklet. You can put it on and forget it. Seems sturdy. Noticeable. I got the infinity symbol with the balls on the chain so it stands out just enough. And the price is good. Would recommend

Very cute and makes a great gift between friends.

Super cute but too small for big ankles. 5 stars because it's very cute and will fit most ladies ankles. Just not mine.

This was a personal purchase and I have worn it since I received it. I have only taken it off when I went to get a pedicure. I even wore it the entire week we were at the beach [Atlantic ocean]. It is still as pretty as it was the day I got it, and the flexibility in sizing allows for adjustments for strappy sandals or multiple anklets.

I am very happy with this purchase. Not only is it beautiful, but the quality is also excellent. Not at all flimsy as others I have seem. It please both people I bought it for. Glad I could save money and also purchase a good quality piece of jewelry.

I bought this around two years ago, and wear it every day. I only rarely remove it for wearing certain styles of shoes, and it has held up with socks, boots, etc. coming off and on! Very durable and sturdy to live two years with me, as I tend to be a bit rough!

Chain is delicate but cute. Give it a try.

This ankle bracelet looks great on the ankle. Its adjustable which is a plus. More bang for the buck. I highly recommend it. I just don't know if it will hold up going in the pool. Time will tell

So far so good. It was gifted to me about a month ago. Honestly I expected it to have disintegrated by now. I am not in anyway easy on jewelry. I have bathed everyday with it. I work outside most of the day and my legs tend to get dinged and beat up all day. I haven't taken it off a single time in this past month. I even sleep with it on. Which says a lot for it's durability because I really didn't expect it to make it past day two. It's all around tough and dainty at the same time. It's a very pretty anklet and has all the right symbolism for my husband's intent.

I'd lost my favorite anklet a few years ago and wanted a replacement. Since summer is here, I started looking around and decided on this one. I'm not disappointed. The dainty anklet is shiny and fits well. I've worn it to bed, in the shower, and while doing my daily activities and haven't had any issues. The clasp seems sturdy and the anklet hasn't fallen off. The one thing I have noticed is that the two beads on either side of the hearts are not stationary. They move around the anklet as I walk, but I can't feel them shifting. I am pleased with my purchase and am considering purchasing additional anklets as gifts.