Shell Hair Claw
Designed for stylish looks
Add a delightful finishing touch to your outfit with this gorgeous Shell Hair Claw. You can wear it to elevate your formal clothing or to create a lovely casual look.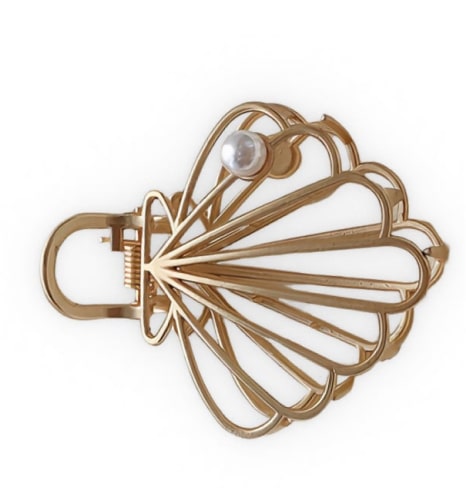 Looking for an elegant accessory?
This hair claw is a perfect choice!
General characteristics
The hair claw has a lovely golden tone and is made of brass. It is crafted in the shape of a seashell and decorated with a faux pearl. Length: 2.4 in. Weight: 1.06 oz.
Easy to take care of
Keep the hair claw in a cool, dry place. If needed, dry with a slightly wet soft cloth. Avoid exposing it to harsh chemicals and cleaning products.
High quality
Brass jewelry possesses high corrosion resistance. It's a strong, durable, and long-lasting metal. So, feel free to wear this hair claw every day!
Classy & meaningful
A shell symbol holds a deep meaning. It represents birth, good fortune, and resurrection. As protective shields, seashells provide relief from stress and anxiety and offer comfort. Shells also represent positivity, prosperity, and balance.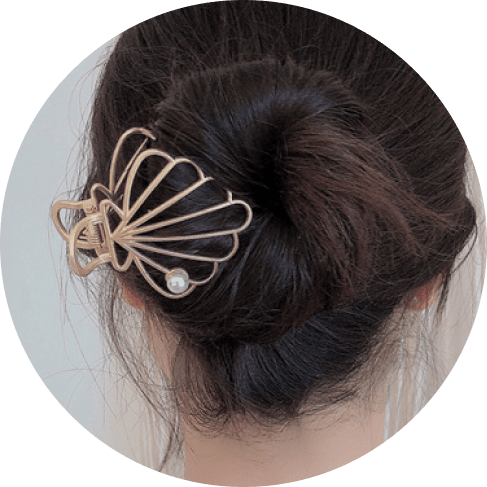 It's a perfect gift
This graceful Shell Hair Claw is an ultimate present for ladies. Its captivating beauty and delicate details won't leave a woman indifferent! It is a fabulous and meaningful accessory. Suitable for girls and women of any ages, the hair claw looks great with any outfit: classy, beach, or casual.
Small, cute, so pretty. The most important thing is that it's holding hair well. And it looks so elegant. I have dark hair so it's very noticeable and looks cute. Little perl is adorable, and well made, I think it won't tear off. And the hair claw itself is very light, and doesn't weigh almost anything. I highly recommend it!

The hairpin is very small, at first I was upset. But then I tried it and it appeared to be very comfortable to use! Even though it's small, it really holds the hair, and the color is very nice.

I thought that the size would be smaller)) but the size was perfect! Material-metal, keeps hair very good!!

Beautiful cuties. The color is beautiful. Quality is high. Keeps the hair well.

A little less than I thought, but for thin hair, what you need.

Steep, stylish, metallic. Keeps the hair great.

Quality is good, holds tight. I really like it.

I thought it would be bigger, but still nice

Clamps are excellent. Very high quality.

Excellent hair clip, keeps hair perfectly!

i like the shape, so cute and original

Great & cute, perfect for me.

A small and very nice clip.