Rose Quartz Facial Massage Set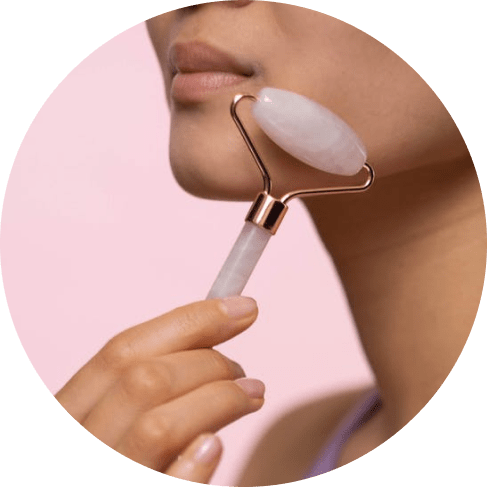 A perfect addition to your beauty routine
Make your skin glow
This Rose Quartz Facial Massage Set is a must-have for those who want to improve their skin complexion and texture, make it smooth, and add a natural glow. This set comes with a face roller and a guasha tool packaged together in a lovely gift box.
About the product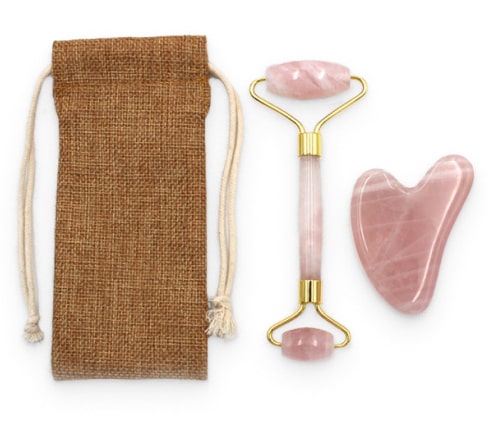 Set characteristics
Both tools of the set are used to smooth out puffiness and inflammation and stimulate the lymphatic system by draining stagnant blood. The face roller size: 5.8 in. (length), 1.7 in. (big roller), 1 in. (small roller).
Rose quartz
Rose quartz is known as a stone of universal love. A rose quartz roller and a guasha tool support lymphatic drainage to reduce the appearance of puffiness and wrinkles. It supports the renewal of skin cells as well.
Stay forever young
A regular usage of this Rose Quartz Facial Massage Set will help you to drain and contour your face. It enhances blood circulation, drains lymphatic fluids, reduces puffiness, and relieves jaw tension and sinus pressure. Besides, it improves product absorption. Start caring about your skin's health now with this marvellous Rose Quartz Facial Massage Set!
I'm glad I bought this set! All came in good condition. I use the roller 2 or 3 times a day and it makes a great massage to my face skin. Super simple in use. It can be a nice gift for anyone too.

Works as expected. Feels great on my skin and in my opinion the roller helps with circulation. It's become part of my daily skincare routine and I love it. Think I'll buy this set again for gifts.

I read a lot of reviews and instructions before purchase and wasn't disappointed. My skin feels and looks better. The roller and the stone are easy to wash and to dry. It's a perfect gift idea.

The roller is well made and looks nice. I notice that my skin is getting better and looks healthier, it proves that the roller really works! I want to buy more for family members.

This is a good set and it comes in a nice package. It seems to me that my face is less puffy now. I'm glad that these tools became a perfect addition to an at-home spa treatment day.

Start to use it every day and I actually see the difference! I feel refreshed and it seems that the roller makes me look younger. If you are on the fence, I would say buy it!

Exactly as described, I`m very satisfied. The roller is beautifully made, rolls very smoothly and the stone looks like it's super high quality.

The set is awesome! Seems like good quality. Use it every evening while watching TV, quite a relaxing and meditative activity. Love love love

I like it, worth the money! Use it twice a day for darkness under eyes and puffiness.

Firstly, I was disappointed when I opened the package and saw no gua sha stone but fortunately until further inspection I noticed it peeking behind the other roller. Nevertheless, the box the set comes in and the products themselves are very elegant looking.

The roller really improves my look, and it's really good for my skin tone, but I am not impressed with the gua sha stone.