Mermaid Tail Hair Clips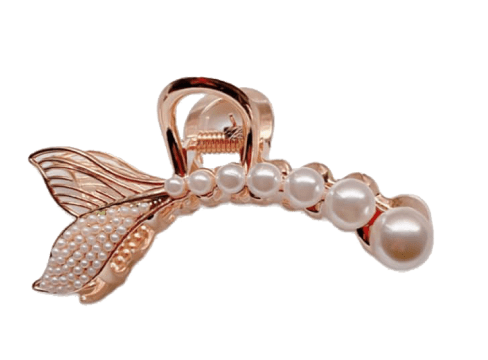 A unique accessory
Designed for sea lovers
If you are a mermaid at heart, a sea lover, or just a fan of rare and elegant accessories, then these Mermaid Tail Hair Clips are for you! Unleash your inner mermaid and make a fashion statement!
The accessory made to turn heads
Hair clip characteristics
This 4.3 in. long gold-toned clip is crafted in the shape of a mermaid tail and adorned with faux pearls, creating a beautiful curve and the illusion of movement.
Comfy & stylish
This hair clip is adjustable and quite lightweight (1.4 oz.), so it won't hurt your skin or damage your hair.
A meaningful present
The symbolic nature and refined style of these elegant Mermaid Tail Hair Clips make them a great present for your loved ones. Suitable for many occasions, the clips represent life and fertility. A mermaid symbol is also believed to bring luck and happiness. Make your significant other feel beautiful and adored!
I think this is an excellent hairpin! It's very good looking, has an unusual design. It is quite big but not heavy at all. It holds hair very well (I have quite a long one) but at the same time it does'n scratch the skin. And these tiny pearls at the tail are so cute and vell made!

I gifted it to my mother, she has long hair. She liked it a lot, she loves the sea and everything connected to it, so it was a perfect gift!

It's very elegant, I have almost similar earrings, they match well. My hair isn't long, the hair clip holds them well.

Looks just like the picture, big hair clips, great for full and thick hair

t's just super! Firmly holds, beautifully on the head!

Very good hairpin, large, comfortable and not tight.

Excellent hairpin, holds hair tight, looks expensive

Very pretty and well made. Highly recommend it!

I'm in love with this pin!!! So elegant and original!

Cool, light, though very well holds the hair

it looks very interesting, and well-made

I expected the color to be more pink

Beautiful and durable hairpin

Beautiful, stylish hairpin!