Lucky Star Necklace
Be the star you are
An eloquent piece of jewelry
Add a playful touch to your regular outfit with the Lucky Star Necklace. Unique in its design, this necklace is guaranteed to turn heads!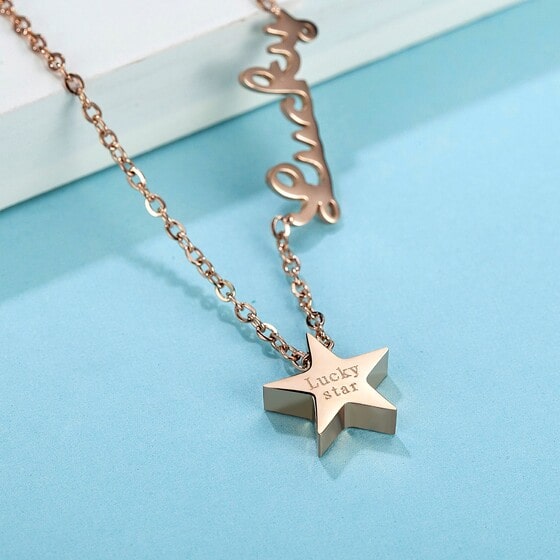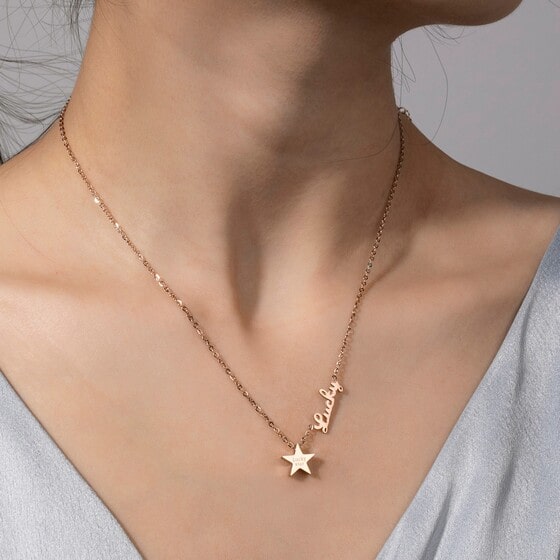 Shine bright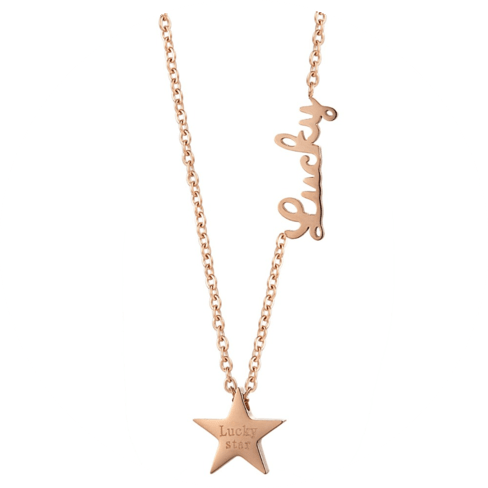 Necklace characteristics
The rose gold necklace is made of stainless steel. Type of chain: cable. Length: 18 in + 2 in. The star pendant bears a "lucky" inscription.
Care tips
Good news for you: stainless steel jewelry doesn't get corroded or rusted. So, feel free to wear this necklace every day. Keep it in a cool, dry place. If stained, wash in soapy water.
A meaningful accessory
A star is a symbol of good luck. To be born under a lucky star means being favoured by destiny. If you need to bring some good fortune into your life, this lovely necklace will become a great addition to your collection. Besides, a star is a sign of self-fulfillment and herald of new beginnings in life. So, make a wish upon a star!
Star is bigger than I expected, but still an adorable necklace.

For the price this chain is high in quality, very thick and sturdy!! Would definitely purchase again

Nice necklace....I thought it would turn colors but 3 months later and it still looks good. Great deal.

The necklace is very cute. I like it.

Beautiful piece I have had mine for 2 years and it still hasn't changed color yet.....

Really like this necklace! Simple and sweet. Easy to style and wear.

I bought this as a gift and they liked it. I didn't get any updates about it, so I don't know how well it held up. As for the look of the necklace, it was nice but you can tell it's not expensive looking

I absolutely love this necklace. I've been wearing it for months and have not taken it off whatsoever. It has not rusted

It was exactly what we thought it was when we bought it, good message, well made and perfect gift to a friend.

The text looks smaller than expected, I thought the text would be bigger, but it's still cute ❤️

So cute, this is my second time purchasing. I get so many compliments on this necklace. Love it, one of my fave pieces of jewelry.

Gave this to a 10 year old girl for a gift and she LOVED it! She put it on immediately after getting it. It's well made, too. Thinking about buying myself one, too!

This necklace is sooo cute. It doesn't irritate my skin at all, and it looks really good. I would definitely recommend. It would make an AMAZING gift for someone or for yourself.

I love this necklace! I've worn it in the hot, humid climate of central Kentucky and I just knew it was going to turn, but alas, it's still as shiny as the first day I put it on. If it can with stand Kentucky's summer heat, it's a great buy.

Love it! It's the perfect size! It isn't big but ya big enough to be noticed and can be paired with other necklaces. I have worn it almost every day since it came in the mail weeks ago and it hasn't turned yet nor has my neck become irritated(I have sensitive skin).