Love Anklet
A lovely reminder
Elegance at its finest
Wear this beautiful Love Anklet as a reminder that love is infinite and boundless. It surrounds and fills you wherever you go.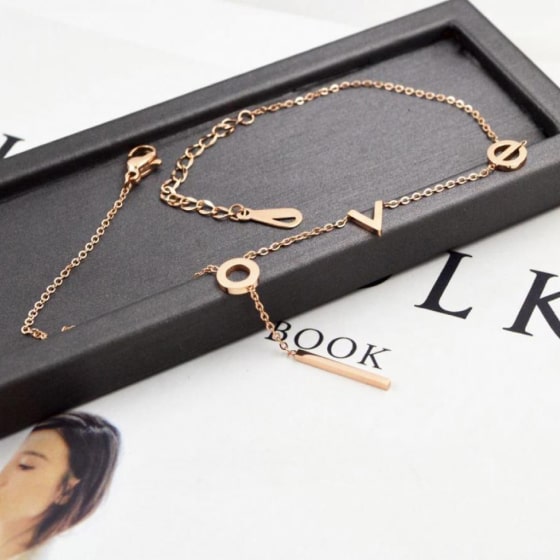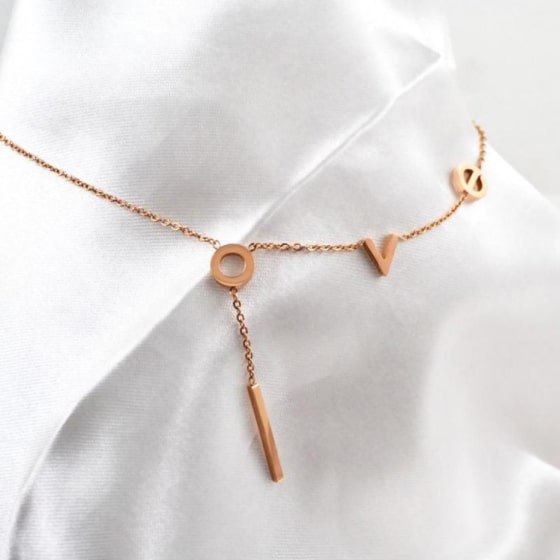 An accessory of your dreams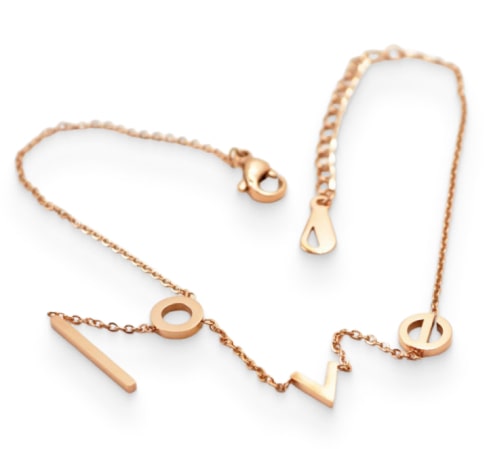 Anklet details
This stainless steel anklet has a pretty rose gold tone. The letter "L" is hanging, letters "O", "V" and "E" are a part of the chain. Length: 7.9 in. + 2 in.
Care tips
Good news for you: stainless steel jewelry doesn't get corroded or rusted. That's why you can wear this anklet every day. Keep it in a cool, dry place. If needed, wash in soapy water and dry with a soft cloth.
A marvelous gift
An anklet is not a common and obvious piece of jewelry that every girl is used to receiving. This makes it a surprising, fun, and unique gift. A graceful Love Anklet will become a perfect addition to a lady's jewelry collection! Besides their exceptional beauty, anklets are believed to have protective and healing powers.
Love this anklet! It was exactly what I was looking for. Nothing too heavy and is sturdy enough to withstand lots of wearing! I put it on the day I got it and haven't taken it off since (yes, I am one of those terrible people that showers with their jewelry on). It has lasted 2 cruises and many beach trips. I was concerned the salt water might affect it but it still looks brand new! Highly recommend!

So I was very skeptical about purchasing this product. I had been searching for something that I would really like and this did the job. I'm a real glamorous women who loves nice things and this looks good on my ankle. I will be purchasing more from this company.It feels very sturdy.

As described and beautiful in person. I looked for a long time to find the perfect anklet and for me this is it. The piece arrived on time, nicely packaged and fits perfectly. I am very pleased. I did not rate durability or sturdiness as i have not had it for very long and wear it occasionally. I have every reason to believe it will hold up well.

I bought it as a change for the festive season, gold and glittery. It's really heavy duty. I have thin ankles and usually can't find a proper size, always too big, but this one fits big and small ankles. I swim, shower and run without removing it, nothing changed, still as if it's new.

I bought an expensive anklet and lost it in 2 months. so I liked this and thought it would be ok. And if I lost it no biggie cause it was inexpensive. But I really love it. It's made well, it's pretty and really durable. Great for a gift or for yourself. And won't break the bank lol. I recommend this totally

I bought this because it looked like it had great quality and the price was reasonable. I have not taken this anklet since I got it a little over 2 months. I have noticed no tarnishing at all, it's absolutely beautiful. It was well worth the price and I would highly recommend buying one or 2.

Great product I've been told. My girlfriend mentioned she wanted to get an anklet, I bought this as a tester to see if she would like it and so far it's been worn quite often and still in great condition. No color change or skin irritation after 3 months of frequent use.

Bought this as a gift for my daughter. She absolutely loves it and never takes it off. It is beautiful and holds up well (she has been wearing it for 2 months straight!) Highly recommend for anyone looking for a simple yet beautiful anklet!

My son got me this anklet last year for Mother's Day. I absolutely love it. I have not taken it off since and have showered and even went in swimming pools with it on and it is still shiny as the day I got it. I have it in silver. I highly recommend.

Bought this anklet because I loved it at first glance. I have been wearing it for a few weeks now and didn't take it off and it hasn't changed color or broken. This was a great buy.

Very pretty anklet. Been wearing it for about a week now since I got it. Seems very durable and very cute! Looks high quality and definitely recommend it for any woman, or girl.

Very cute anklet. I've had it on my ankle for about two weeks now without taking it off and is still shiny. I like how it is adjustable to fit the size of your ankle

Came packaged nicely and beautifully right out of the box. It's been a few months with daily wear and still looks brand new

My wife loves this ankle bracelet. It's really beautiful in person and looks great on her. Very sexy.

Fits my small ankle, I always have a hard time finding one small enough, this was perfect!

I bought this for my god daughter and she loved it! It is a beautiful piece!!

Beautiful, shiny and appears to be durable!

As described. So far so good and elegant

Bought this for my wife and she loves it

I love this ankle bracelet so much I bought a second one after I lost the first within a week. I think this is because the ring to put the clasp through is small and you have to make sure it is secure. Other than that, it is really lovely and a great value for the price.

It's very pretty. A little bit on the dainty side not sure of its durability.

It is pretty, but it does not show on white skin.

The gift box was cute, however this anklet was not pretty for me.