Irregular Pearl Necklace
Not your ordinary pearl necklace
Fashionable holiday style necklace set for women
Can there really be too much jewelry? Of course not! Start off, or add to, your jewelry collection this unusually beautiful pearl necklace! A distinctive accessory piece that will set you apart from everyone else.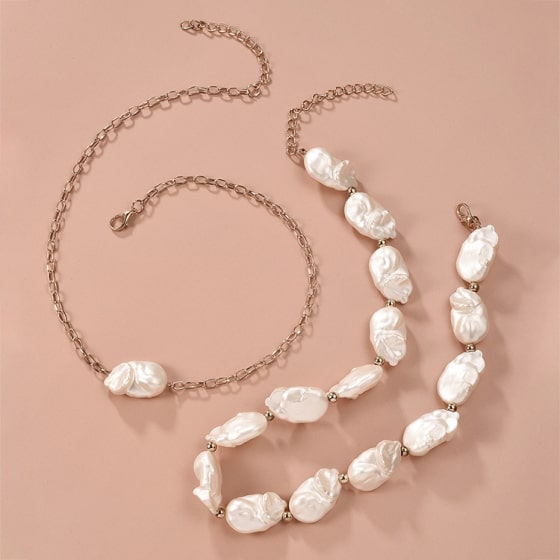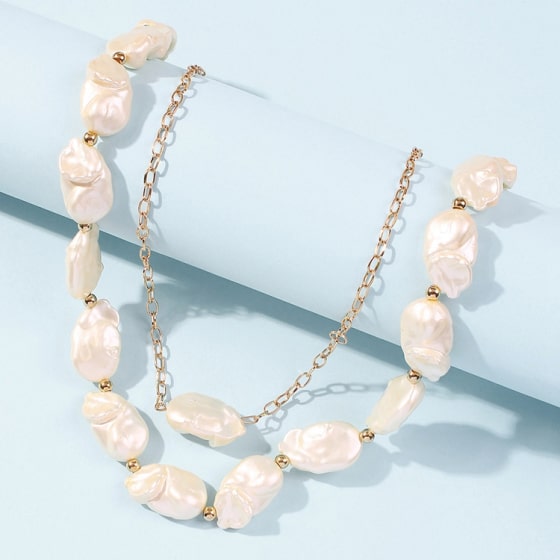 Pearl necklace specifications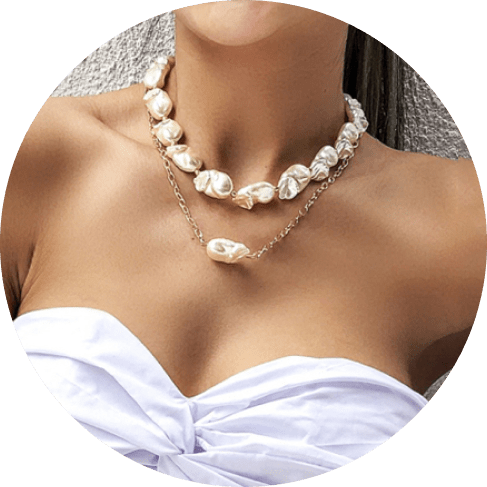 Care tips for jewelry
Keep the jewelry away from chemicals, high temperature, bath, water, sweating, cosmetics, moisture crash to avoid any damage, please treat it carefully. Store your necklace separately in a sealed box or sealed bag to avoid oxidation.
Pearl necklace details
This fashionable pearl necklace is made out of zinc alloy and delicate simulated pearls. The weight: 2 oz. The length of the necklace: 17.3+2.7 in.
A spectacular jewelry piece for any occasion
Are you tired of your old look and feel like you need a little bit of a refresher? Ready to feel stylish, confident, and full of joy? With this outstanding necklace, you will be! This pearl necklace will be the perfect accessory to spice-up your look, regardless of the occasion, whether it's an anniversary, engagement, a party, or even a wedding.
Absolutely beautiful!! Delivery was really quick. A really stunning gift for someone special! Worth every penny and at this price a complete must have!!

My wife was very pleased with her christmas present and has been showing it off ever since. Many thanks and a happy new year

Got this & a pearl necklace as a set to make a great birthday present. The girlfriend will love it.

Great opportunity to give the wife a pearl necklace and raised many a smile when discussed amongst friends and family 🤭

Christmas present for a delighted wife. Everything was wonderful and all at an affordable price. Thank you.

Lovely. Well made and very nice peals.

I have bought these pearls as a Christmas present, and have been very satisfied so far with the process of purchasing them and the way they look. Final result will not be until the recipient has seen them.

Pretty necklace with the big sized pearls I wanted.

I received the pearls 3days after ordering them very good delivery time. They are beautiful they look so fragile but they are not. My wife loves them and I must say they look good on her.

These pearls are my birthday present, I was only allowed to have a look, and not wear them! They are absolutely beautiful, can't wait to wear them. Thank you so much.

Stunning necklace! This necklace is well made and the pearls on it are just perfect. I am sure my sister will love it. If you are looking for a beautiful pearl necklace at a reasonable price then look no further than this one.

Happy with purchase although the clasp is a bit tricky to fasten being so small

I've always wanted a string of real pearls and these are perfect. The catch is fiddly, but I can get used to that. They came in luxurious packaging. I shall enjoy wearing them very much.

Ordered this pearl necklace & it came earlier than expected, the pearls looked very nice. My wife will love them, they are perfect. I also ordered the earrings to suite, they were very nice. Thank You so much. I will give these pears 10 out of 10, the color and semetricity of shape are as described, I can't fault the product or the wonderful price. These are a must-buy for your Girlfriend, wife, fiancee, mother, or gran.