Dollar Pendant Anklet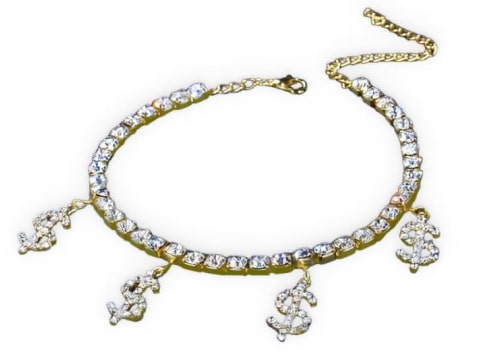 A fashionable accessory
Create a luxurious look
This extravagant Dollar Pendant Anklet will become a sparkling addition to your jewelry collection and elevate your style. Stand out from the crowd!
An accessory of your dreams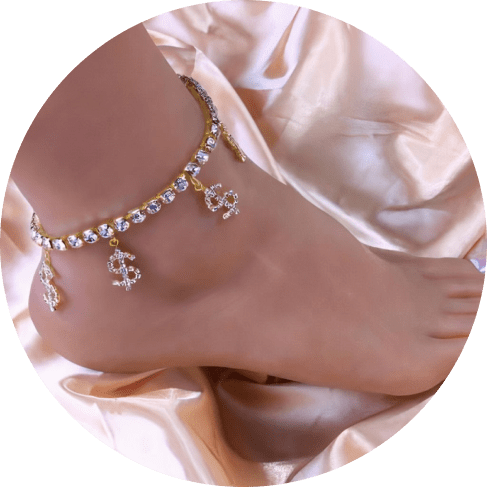 Anklet details
Crafted in brass, this gold-colored anklet carries four dollar pendants along its length. The chain is enchased with rhinestones, creating a beautiful gleam as the anklet catches the light.
High quality
Brass jewelry possesses high corrosion resistance. It's a strong, durable, and long-lasting metal. So, feel free to wear this anklet every day!
An astonishing gift
An anklet is not a common and obvious piece of jewelry that every girl is used to receiving. This makes it a surprising, fun, and unique gift. A posh Dollar Pendant Anklet will become a perfect addition to a lady's accessory collection! Besides their exceptional beauty, anklets are believed to have protective and healing powers.
I'm not really slim so I was worrying about how it would fit me, but it's perfect!! It's so shiny and elegant, that it looks great on my ankle. I've already worn it and everything was fine, I didn't lose it and everything is in its place. I'm gonna wear it a lot during the rest of the summer :)

I haven't got a chance to wear it yet, but it looks like it's going to be fine. I tried it at home and my cat hunted the dollars, but couldn't tear them off (: What I really like is that it shines soo bright, outside it will look great!

The color is a little bit strange, but nice. Not yellowish nor golden, looks interesting. Bracelet feels comfortable, doesn't disturb me at all.

cute!!! looks & feels a little cheap but that's to he expected, still would recommend tho!

It fits me perfectly, I like the color and pendants, looks funny and cute.

Exactly like the photo. Fits well. Very shiny and the gold is beautiful.

So far so good; is a bit thicker than expected.

I am obsessed with it and it was worth it.

Very good, material and size are good

Simply wonderful!!! Good quality

Very pretty, shines very well

I like it looks like the picture

it is very cute and stylish.

It's gorgeous, I love it!