Boho Layered Bracelets Set
Golden 3 piece bracelet
Fashionable bracelet set for women
A golden bracelet carries a much deeper meaning than regular accessories. Not only does it greatly complement your look, but highlights the gracefulness and beauty of a lady's wrist. Enrich your style with this multi piece bracelet set!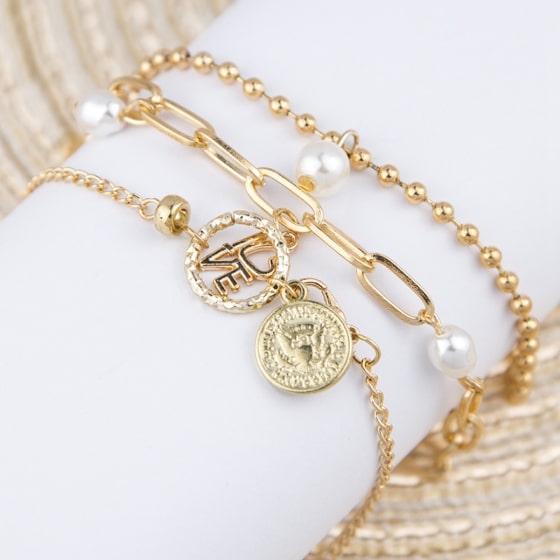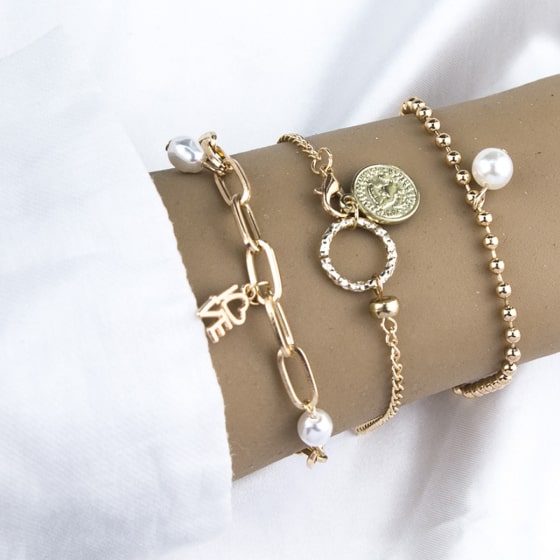 Boho layered bracelet specifications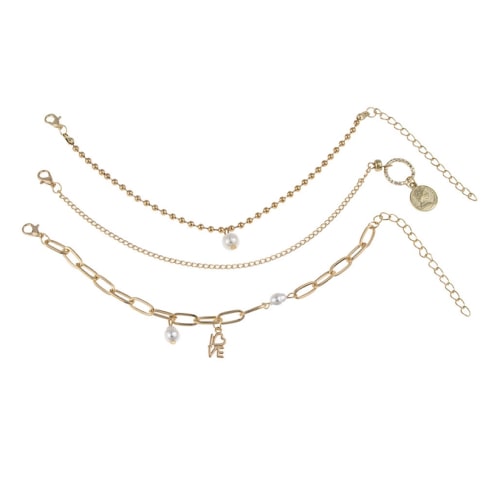 Care tips for jewelry
Keep the jewelry away from chemicals, high temperature, bath, water, sweating, cosmetics, moisture crash to avoid any damage, please treat it carefully. Store your bracelet separately in a sealed box or sealed bag to avoid oxidation.
Bracelet set details
The bracelet is made out of zinc alloy. The weight: 0.53 oz. The length of the bracelet: 9.2 in.
It's the perfect gift
This multi piece bracelet will be the ideal gift for any woman. It will serve as a subtle touch that will highlight practically any look, and especially your summer outfits. By simply putting on this bracelet, you will experience tremendously high confidence and a rush of positive emotions. You will be eager to put it on each time you go out!
These are best for small wrist

Exactly as expected. Love them

Very durable and look lovely on

Are very nice but a bit too expensive for what they are.

Ok as the description only a bit smaller

Great product for the price. Arrived quickly and packed safely.

Really good quality and very pretty, also came very quickly

Set of 4 bangles, but I tend to wear only one or two at a time. Looks very feminine and tasteful on my wrist and have received many compliments. Would definitely buy again! :)

Bought this as a birthday present, it's a lovely bracelet and a perfect gift for someone.

Beautiful! These look really nice and are so easy to wear! good quality and have had loads of compliments!

Lovely gift! The bangles aren't attached to each other so I actually made this into 2 gifts for people.

Came quickly in a presentation box, they can be adjusted by gently squeezing them. Happy with purchase.

They stay these are for women, not sure why I like them and I'm a man, Good fit

What a great set of bracelets, seems good quality and just like them

I was pleased with these adjustable bracelets, and you can obviously just wear them individually or all 4 together.

I really like these bracelets. I was expecting less as they are quite cheap but are really nice. I have been wearing them for a few weeks now and have noticed no change in colour. Easy to wear all at the same time or separately.