Round Rattan Earrings
Stylish rattan antique ladies earrings
If you're the type of person who likes to experiment with your look then these double rounded rattan earrings will be perfect for you. Style up for any occasion!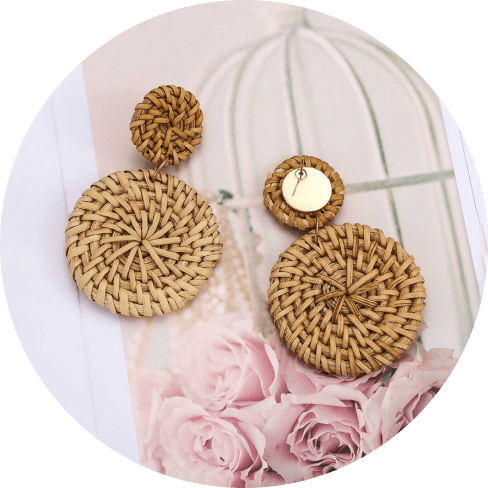 Earrings specifications
Freshen up your outfit with antique jewelry
Item details
Earrings are mainly made out of rattan.
Jewelry details
The size of the earrings: 1.08*1.86 in. Color: Coffee.
Occasion to wear
Great to wear for anniversaries, engagements, parties, weddings, or even to give someone as a present.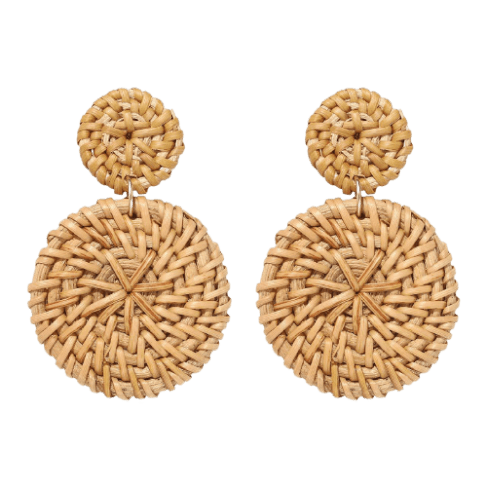 Quality and sense of art coexist
Earrings are probably the most popular type of jewelry and no look is complete without the right earrings. These double rounded rattan earrings are perfect for any occasion. The fantastic retro design will perfectly complement your style.
Lightweight, well made, very summer time looking.

These earrings are beautiful and I get compliments whenever I wear them. They are lightweight and comfortable to wear.

I have received SO many compliments on these earrings! I really wish I purchased them sooner! Great deal for the price and they are very well made.

These earrings are perfect! Trendy, affordable, light weight, and durable! I wore these on vacation and managed to get them wet while swimming and they held up great!

These earrings are beautiful and well made. I'm not a fan of big earrings but I'm obsessed with these. They are lightweight and they can dress up a simple summer outfit. I wore them with a green maxi dress and got tons of compliments on them. Very happy with this purchase.

Easily one of my most favorite pairs of earrings I own! These are so cute! The quality is so much better than I expected, considering the low price. They're lightweight enough that I can wear them for an entire day and my ears aren't irritated. Highly recommend it.

Love these earrings! They're incredibly lightweight and comfortable to wear... Not to mention, super cute! Came in a perfect condition. Perfect calm color and perfect size. I love the material and I'd definitely recommend these!

These earrings are adorable and seem to be nice quality. However, they are a bit smaller than I expected. Still love them and will definitely wear them!