Round Coin Pearl Bracelet
A classy pearl bracelet
The perfect bracelet will not only complement your look but will showcase your personality as well. So, demonstrate it in style and with confidence.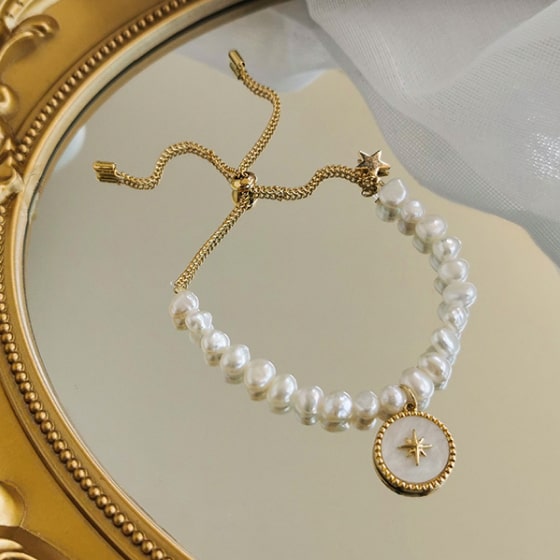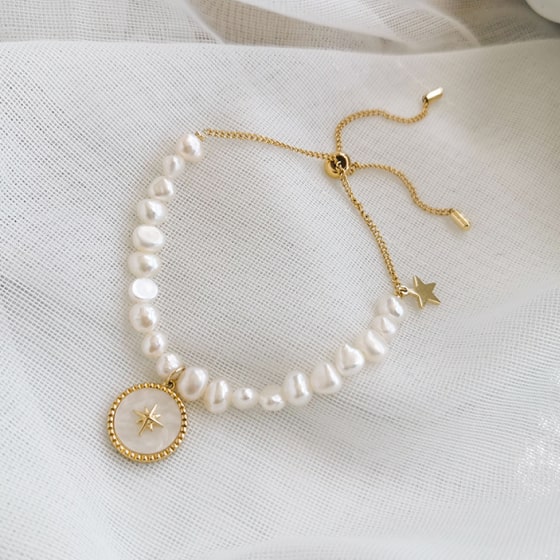 Bracelet specifications
Freshen up your outfit with exquisite jewelry
A great gift
Whether you want to surprise yourself, your friends, or even your significant other, it will be a perfect surprise.
Occasion to wear
Great to wear for anniversaries, engagements, parties, weddings, or even to give someone as a present.
Jewelry details
The size of the bracelet: 9*0.05 in. The weight: 0.28 oz. Made of high-quality materials including alloy and pearls.
It suits anyone!
This charming bracelet suits any type of girl. Elegant, unique, lovely, and domineering, its one-of-a-kind design is great for anyone. Add to your style and make it even more special.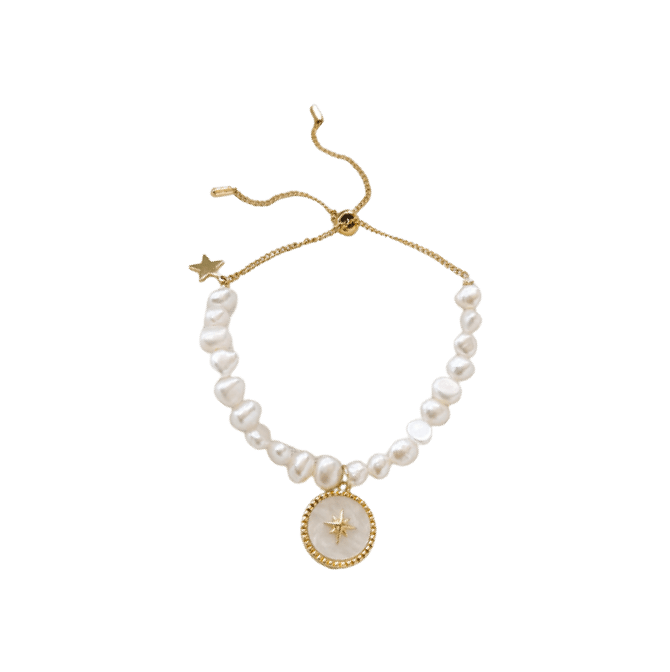 A simply beautiful bracelet which my daughter adores.

My mom bought me this to wear at my wedding. It's my first real pearls, my birthstone and so beautiful.

This bracelet is absolutely gorgeous! I love it! It's the perfect size for me! I will definitely buy from this brand again! The bracelet is large enough but yet very dainty looking. Definitely recommend

Love it!! Beautiful pearls and elegant bracelets. So glad I bought it and have it to use again in the future for formal occasions. Also, I didn't love the size the first time, but then I felt comfortable. Very happy dealings with the pearls and coin that make the bracelet perfect.

This bracelet is beautiful. The pearls have great sheen and luster. The color of the white pearls is perfect. These freshwater pearls are almost completely round. I highly recommend this brand of pearls. I will be purchasing more jewelry from this seller.

I was looking to purchase a quality pearl bracelet for both my sister and myself (I'm her matron of honor) to wear at her wedding. I read the reviews and decided to take a chance & purchase them. WOW, I absolutely LOVE the quality and lustre of these pearls!! I was more than pleased with my purchase and she was very touched when I gave her the bracelet. The reviews were right. This bracelet is beautiful and I can't wait to wear it.

This bracelet is exactly what I have been looking for but the item was nice but small for my wrist.